Pittsburgh Steelers' James Conner Honors Mac Miller With Custom Cleats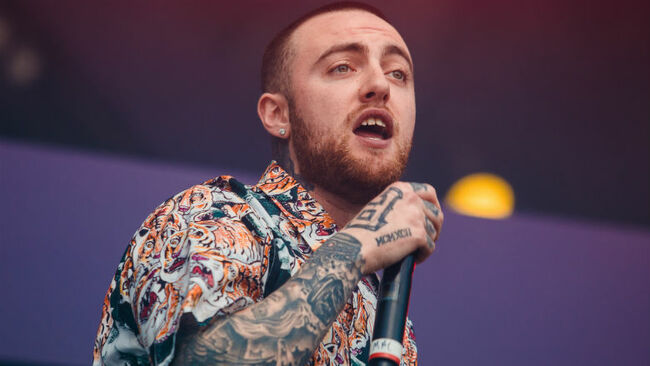 Tributes and homages to the late Mac Miller are still pouring in and the latest comes from Pittsburgh Steelers running back James Conner. On Sunday (September 16), the NFL star paid ode to the hometown rapper with a pair of cleats that included photos of the MC.
Mid-afternoon, the 23-year-old star took to Twitter to share shots of his customized footwear ahead of the team's game against the Kansas City Chiefs. While the cleats featured Mac's image on both shoes, titles to his many songs could be seen printed across the front of the cleats. "Thank you Mac. 🙏🏽💧," he captioned the shots in a post, which has garnered over 20,000 retweets. Miller was born and raised in Pittsburgh, and a known Steelers mega-fan, so the tribute was an honorary move on Conner's end. It was also reported that the rapper's track "Knock Knock" played at Heinz Field during the Steeler's matchup with the Kansas City Chiefs. "Knock Knock" served as the lead single off his 2010 mixtape, K.I.D.S.
The Pittsburgh Steelers previously paid tribute to the rapper after word of his death hit the blogosphere. "RIP Mac Miller. Thanks for being a great Steelers fan," the team tweeted alongside a photo of Mac in team gear.
News of Mac Miller's untimely death filled the blogosphere on Friday afternoon (September 7) after TMZ reported that the rapper passed away from an apparent overdose. Stars like Chance The Rapper, Shawn Mendes and Diplo took to social media after the news broke to remember the late rapper, who was only 26-years-old. Law enforcement sources told TMZ that Mac was found around noon at his San Fernando Valley home and was pronounced dead at the scene. Authorities were reportedly alerted by a male friend who called 911 from the star's residence. Miller's cause of death comes after a long struggle with substance abuse, which was reportedly the reason for his breakup with Ariana Grande.
If you or anyone you know is facing substance abuse issues, call the Substance Abuse and Mental Health Services Administration's National Helpline at 1-800-662-4357 for free and confidential information 24/7.